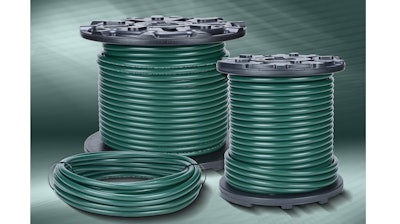 Continuous flexing control cable is now part of the AutomationDirect (Cumming, GA) bulk multiconductor wiring and cable product line. Continuous flexing cables are designed to be exposed to constant flexing during their operation, and to withstand millions of these flex cycles. Specifically:
CF5 and CF6 multi-conductor control cables from igus are designed, tested and manufactured for continuous flexing, high mechanical load application requirements, and will provide a guaranteed service life between 5 million and 10 million cycles when operated within specified conditions.
Chainflex individual conductors are bare copper and stranded for flexing applications. Conductor insulation is high-quality black TPE mixture for 20AWG and black PVC mixture for 18 through 14 AWG. Individual conductors are marked with white numbers for easy identification and a ground conductor with green-yellow insulation is included in each cable. Cable outer jackets are a low-adhesion pressure extruded PVC mixture that is resistant to sunlight, oil penetration, and is flame retardant.
Chainflex cables have a unique tear strip underneath the outer jacket (unshielded) or underneath the inner jacket (shielded). The jacket can be opened like a zipper to the desired length by pulling on the special tear strip and the outer jacket/inner jacket removed from conductors. The tear strip saves time and effort for electricians and assemblers, and reduces the requirement for additional stripping tools.
www.automationdirect.com/high-flex-cable; 770-889-7876