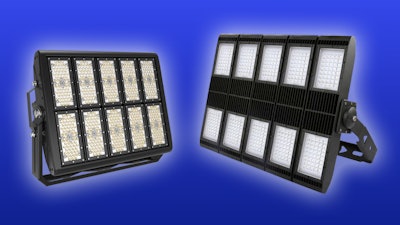 LEDtronics
LEDtronics (Torrance, CA) has introduced the brightest light in company history in a new series of LED High Mast Flood Lights. The lumen output of the HPF series ranges from 31,000 to 118,000 lm. These newly-designed, dimmable LED high mast flood lights come in a range of wattages. Additional features include:
Consume 250 to 800 watts.
Applicability in stadiums, arenas, exhibition halls, high bay illumination, industrial plants, and construction sites.
A lightweight design with an adjustable bracket to ease installation.
Lumen maintenance of over 70 percent at 50,000+ hours.
An IP65 safety rating (suitable for wet locations).
An impact protection rating of IK10.
An input voltage range from 90 to 305 VAC.
An operating temperature range from ~-40°C to ~+50°C.
A solid-state construction that is resistant to shock, vibration, frequent switching and environmental extremes.
For more information, visit https://www.ledtronics.com/.