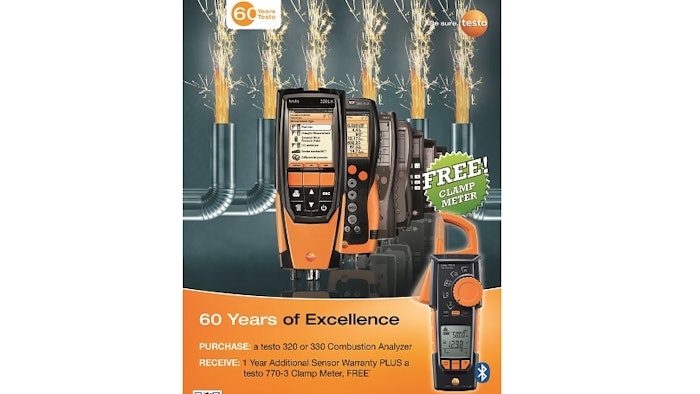 Testo, Inc. (Sparta, NJ) has announced its Fall promotional campaign, "60 Years of Excellence," to celebrate the company's 60th anniversary. This promotional campaign offers customers the opportunity to receive a free testo 770-3 hook clamp meter with the purchase of any 320 or 330 combustion analyzer kit as well as an extra year of sensor warranty. Features of the analyzer kit include:
All the functionality required to perform tuning and troubleshooting on residential, commercial and light industrial appliances.
Pre-calibrated user-replaceable sensors, and full color graphic displays.
Complimentary to the testo line of combustion analyzers, the testo 770-3 hook clamp meter is ideally suited for electrical work in all HVAC applications. Features include:
The ability to work safely in tight spaces as well as identify the testing in-process with a unique hook-on clamp.
Bluetooth functionality.
A host of features designed specifically for HVAC techs, including TRMS, capacitance, microamps, starting current and frequency measurement.
This offer is valid for purchases from August 1st through December 31st 2017 at all testo authorized distributors with redemption accepted through January 31, 2018.
Visit www.testo.com/promo for redemption form or to learn more.