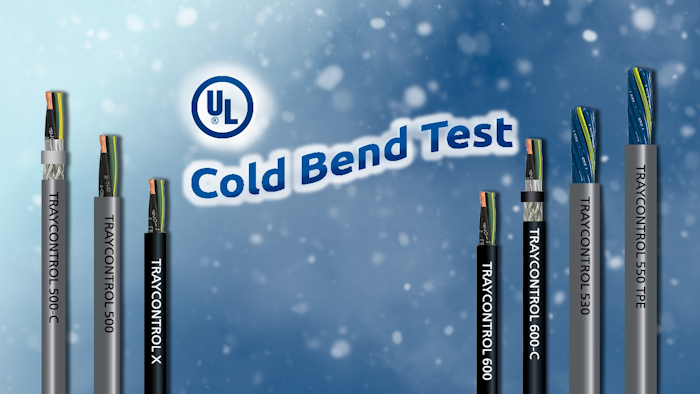 HELUKABEL (Elgin, IL) has announced that seven of the TRAYCONTROL family of products have passed the UL -40°C Cold Bend Test and have enhanced their conductor temperature ratings from 90°C dry/75°C wet to 90°C dry/wet. Electrical cables are exposed to harsh temperature extremes, where both low and high temperature fluctuations impact a cable's performance. The following cable products are now tested in accordance with UL, CSA and NEC for applications where bending in cold temperatures is required in temperatures as low as -40°C (-40°F). Specifically:
HELUKABEL's TRAYCONTROL 500, TRAYCONTROL 500-C, TRAYCONTROL 600, TRAYCONTROL 600-C are UL 1277 and 2277 flexible, shielded and non-shielded, oil-resistant (Oil Res I and II) control power cables that have various TC-ER ratings that allow them to be installed in- or outside of a cable tray to connect control panels to machine equipment. The main difference is the coloring of the outer jackets – TRAYCONTROL 500 and 500-C are gray (RAL 7001), while the TRAYCONTROL 600 and 600-C are black (RAL 9005).
The TRAYCONTROL 530 (PVC) and TRAYCONTROL 550 TPE are UL 1277 and 2277 flexible, oil-resistant (Oil Res I and II) control power cables that have a special combination of TC-ER, PLTC-ER and ITC-ER allowing them to be used as connecting cables for AC, DC or control wiring in accordance with NFPA 79. The blue-colored conductors are ideal for machine tool and production line suppliers to the automotive industry.
The TRAYCONTROL X is a NFPA 79 compliant flexible control power cable with cross-linked (thermoset) polyethylene (XLPE) insulation. It is ideal for applications that require long cable runs due to its low capacitance. A higher current load rating is possible due to a conductor temperature resistance of 105°C. The TRAYCONTROL X series is 600 V and WTTC 1000 V rated allowing them to be used in both industrial plant machinery and 1 kV wind turbine cable tray applications.
www.helukabel.com; 847-930-5118