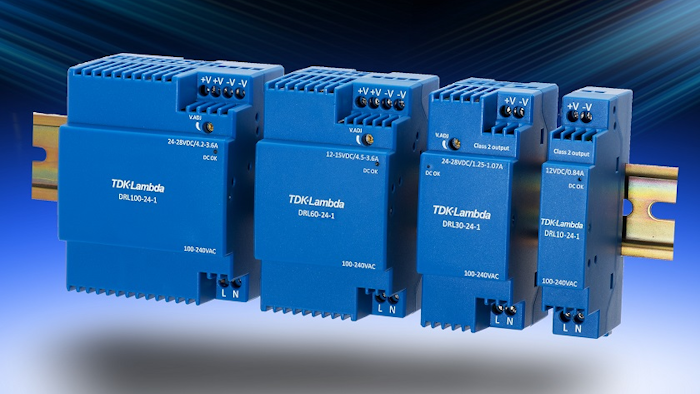 TDK-Lambda
TDK-Lambda (National City, CA) has introduced the DRL AC-DC DIN Rail mount power supplies.  With efficiencies of up to 90%, waste heat has been reduced, allowing the use of narrow width package sizes ranging from 18 mm for the 10 W, to 72 mm for the 100 W model. Additional features include:
Applicability in building and factory automation, security, process control and test and measurement.
An operating input range of 85 to 264 VAC.
The ability to withstand 300 VAC for 5 seconds. 
A Class II construction (double insulation) — do not require an earth ground connection. 
Input to output isolation of 3,000 VAC. 
4 power levels: 10 W, 30 W, 60 W and 100 W.
A 24 V output in all package sizes, a 12 V output for the 10- to 60-W versions. 
30 to 100 W models that have user adjustable outputs from either 12 V to 15 V or 24 V to 28 V.
Operation in ambient temperatures from -20° to +71oC with derating applying at high temperatures. 
A plastic case with a depth of 55.6 mm and a height of 91 mm. 
The 10 and 30W have an off-load power draw of <0.3W with the 60 and 100W at <0.5W.
Certification to UL/CSA 60950-1, IEC/EN 60950-1 and UL 508 with CE marking for the Low Voltage, EMC and RoHS2 Directives.  
Select models comply with NEC Class 2 in accordance with UL 1310. 
All units meet EN55011/EN55022-B conducted emissions (Class A radiated) and comply with IEC 61000-3-2 harmonics and IEC 61000-4 immunity standards.
For more information, visit http://www.us.tdk-lambda.com/lp/products/drl-series.htm.