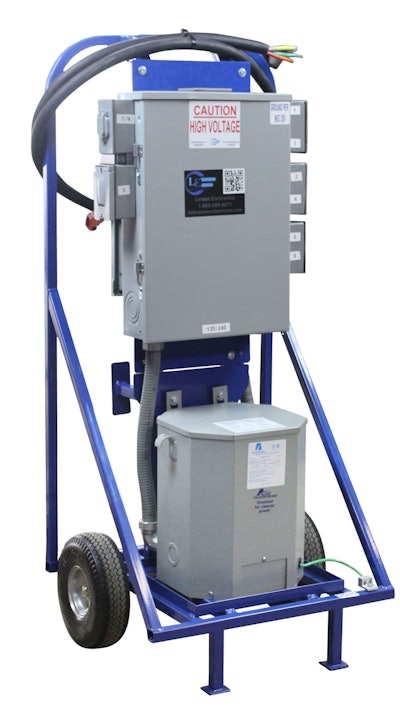 Larson Electronics
Larson Electronics (Kemp, Texas) has announced a new portable power distribution system that converts 480 volts AC single phase electrical current to 120 and 240 volts AC. The MGL-10K-2X240.20A-2X120.20A portable power distribution system features:
A safe and reliable way for operators in industrial settings to tap into and utilize power sources independently of the work area.
20 feet of Type W line-in power cord.
A 30-amp fused disconnect that provides protection for the 10 KVA single-phase transformer.
On the secondary side, a 100 amp main breaker 120/240 volt panel provides protection for two 20-amp, 120 volt 5-20 GFI outlets and two L6-20 receptacles.
A standard steel, dolly-cart style frame.
Two rubber tires.
A center point lift eye enables lifting with cable or chain hooks.
A NEMA 3R rating.
For more information, visit www.larsonelectronics.com, or call 1-800-369-6671.