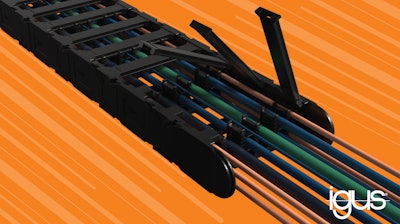 igus (East Providence, RI) has announced it is expanding its broad range of cable management solutions with pre-populated, application-specific e-chain systems.
The pre-assembled e-chains and cables are designed to match the unique needs of each project, seamlessly fitting into the system and eliminating compatibility concerns. The units streamline procurement and cut down assembly time, allowing engineers to focus on critical aspects of their designs.
The igus pre-assembled e-chains and cable harnesses provide a simple yet powerful solution for engineers. By offering direct delivery to end-users, these units save significant time and money, providing quick and easy access to quality components. Expert installation ensures seamless integration, while pullcords available for various applications further enhance their functionality.
According to igus, by using these pre-assembled units, engineers can reduce time, effort, and errors associated with sourcing and assembling individual components.
www.igus.com, 800-521-2747