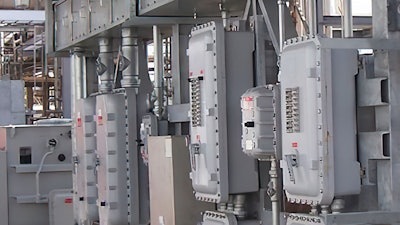 Emerson
Emerson (Rosemont, IL) introduced its Appleton portfolio that offers turnkey, fully customized industrial switchracks to serve as electrically and mechanically interconnected, single-point solutions for controlling electrical infrastructure on hazardous or non-hazardous industrial sites.
Engineered to global standards, Appleton switchracks are designed for single-phase and three-phase low-voltage power and can be outfitted with:
Motor controls
Transformers
Circuit breakers
Panelboards
Other assorted switching and control equipment
Features:
Configured to provide resistance to adverse weather, dust, dirt and corrosion
Able to be safely installed indoors within a factory or processing plant
As a turnkey supplier, Appleton provides all engineering, designing, wiring and testing of individual components, along with transportation of the fully assembled, pre-wired switchrack.
Completed switchracks are delivered to the customer's site where the only job remaining is to connect incoming power to the main bus and the load side.