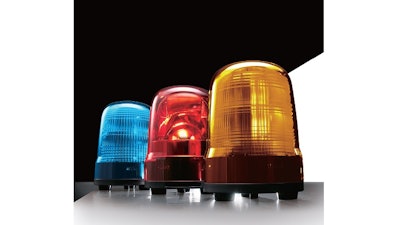 New to the market, the SL, SK, and SF Series from PATLITE (Torrance, CA) are signal beacons with flashing, rotating and multi-functioning properties respectively.
The SL, SK, and SF beacon series have an option for buzzers so that audible alarms can be combined with visual notifications to ensure that the work site never misses an important signal. Whether the workplace requires a standard flashing signal or a combination of light patterns for multiple status indications, the new PATLITE beacons offer a wide variety of functions to support any application. Additionally:
The display patterns of the SL Series beacons include triple flash, blinking, and continuous.

The SL beacons are designed with a newly developed Fresnel lens, which presents a wider light-emitting surface compared to previous models, allowing for a higher luminous intensity.

The detailed texture of the lens achieves even, ambient light distribution around the perimeter of the beacon, including the top.
www.patlite.com, 888-214-2580