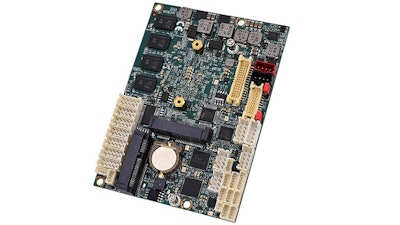 WinSystems (Arlington, TX) has announced its Intel E-3800 processor-based computing platform in the Pico-ITX form factor. Measuring a mere 3.9 inches by 2.8 inches, the ITX-P-3800 delivers low-power performance, endurance and versatility. The proven design of this rugged single board computer (SBC) accelerates time to market for new products while assuring that they will perform reliably in critical applications for many years – even under harsh operating conditions. Equally important, it gives embedded and industrial IoT designers the flexibility to create unique designs via easy-to-use expansion and configuration settings. Features include:
The most frequently used functionality for Industrial IoT applications and Human Machine Interface (HMI) displays, with the ability to withstand operating temperatures from -20 to +70º F.
The performance required to run Windows 10 IoT and Linux operating systems and extended life cycle solutions for energy management, medical and unmanned vehicle designs.
Dual Ethernet and four USB channels included; accommodates a wide range of DC input power: + 9V to + 36V. They combine powerful Intel E3800 processors with a functional I/O set including four RS-232 serial ports plus a Mini-PCle connector for easy expansion.
www.winsystems.com; 817-274-7553, ext. 125