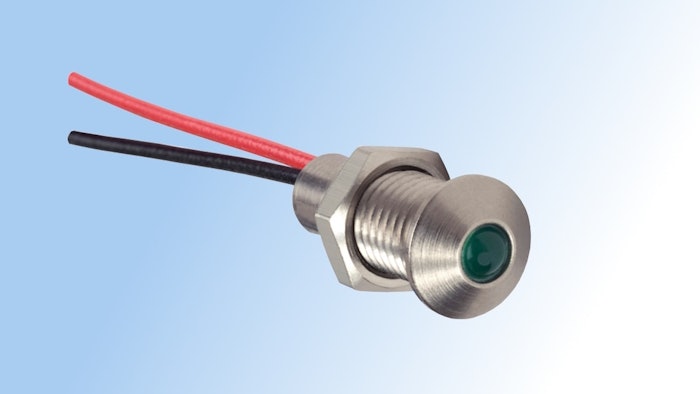 Wilbrecht LEDCO, Inc. (St. Paul, MN), a Microprecision Electronics company, announces a new, longer M6 thread 3mm CDLB series panel LED. This enables customers to design panels with 3mm LEDs to their own specifications, eliminating the need to change to larger LEDs to fit thick panels. The new CDLB series mounts in panels up to 8mm in thickness, even when supplied with the optional washer for IP67 sealing. Other features include:
A front mount nickel-plated housing with a prominent bezel shape and a protruded LED.
A fully potted housing with additional gasket, offering front and rear IP67 sealing and providing environmental protection for outdoor applications.
LED indicator available in a broad range of colors and intensities, including daylight readable, as well as bicolor and blinking.
Optional internal resistors, allowing operation up to 60VDC, and custom AC voltage assemblies are also available.
Manufactured in the US, the LED can be easily adapted to meet custom needs for special wire, connectors or marking.
www.wilbrechtledco.com; 651-659-0919