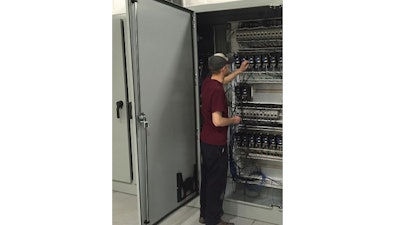 The electrical team at Multi-Conveyor (Winneconne, WI) builds simplistic, standard powered equipment as well as complete, intricately controlled systems for the most complicated conveyor operation or integration. This newly released video will briefly show how an electrical panel the size of a garage door, is actually built.
They start with UL listed or industry proven electrical components. The electricians build the inner guts of the cabinet separately and, when completed, the controls are placed into the cabinet while still in the horizontal position.
The Multi-Conveyor electrical team then precisely and delicately attaches the unit to one of the shop's six (6) overhead cranes that will lift the entire unit vertically into position. This requires a steady pace, human guidance and experienced crane operator.
Benefits of Multi-Conveyor's in-house Electrical team include:
Conceptual design and system layout.
Decades of experience.
PLC programming.
Industry leading touch screen controls.
An on-site electrical installation or start-up assistance (upon request).
www.multi-conveyor.com; 800-236-7960