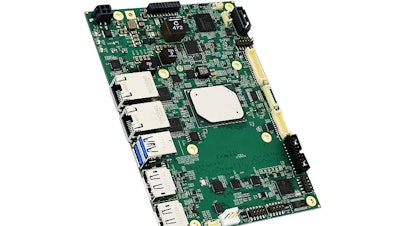 WinSystems (Arlington, TX) has introduced its small-footprint SBC35-C427 single board computer. The innovative design is based on the latest Intel Atom E3900 series processor. According to the company, it is unique in coupling edge computing with multiple configuration and expansion options for adding functionality, along with an extended operating temperature range. The additional functionality provided via its onboard analog-to-digital (ADC) input, general purpose input/ output (GPIO) and serial interfaces enables data collection for simple IIoT gateway applications with flexible expansion to build a full data acquisition platform. Features include:
Support for embedded date acquisition: WinSystems' SBC35-C427 SBC offers dual Ethernet, two USB 3.0 and four USB 2.0 channels, and two onboard analog-to-digital converter (ADC) inputs. Connectivity features also include eight general purpose input/output (GPIO) lines, three serial channels and HD audio.
Set up for digital signage: Powered by Intel's latest integrated graphics processor, the design supports up to three independent video displays for stunning, high-resolution graphics – up to Ultra HD 4K at 60 Hz.
Power up expansion: The latest in industrial single board computer technology equips embedded and IIoT developers to create unique designs through easy-to-use expansion and power settings.
Engineered for Industrial IoT Performance: Powered by the Intel Atom processor E3900 (formerly known as Apollo Lake-I) series SoC, the SBC35-C427 enables more processing to take place at or near the data sensor and offers up to 8 GB of ECC DDR3 RAM. It also provides an extended operating temperature range (-40ºC to +85ºC) and is shock- and vibration-tested to ensure reliable performance in rugged environments.
www.winsystems.com; 817-274-7553