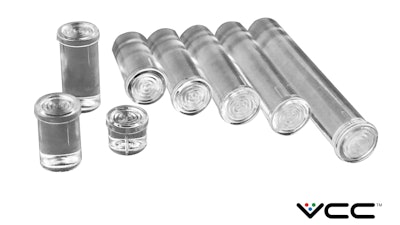 VCC
VCC (San Diego, CA) has developed a rigid light pipe that delivers bright, focused light and eliminates glare and shadowing. The LPCR Series rigid light pipe features a low-profile Fresnel lens that offers a 160 degree viewing angle. Additional features include:
A 0.171" (4.34 mm) diameter design.
The ability to extend light from the board to the desired surface.
No physical connection between the light pipe and LED (SMT or through hole) is required, providing versatility for assembly.
A front panel mount design.
Crushable ribs that simplify installation and maintenance. Suitability for harsh, high-vibration applications.
An optional retainer (RTN_150, RTN_250) to ensure secure and uniform placement of the light pipe to the panel.
Availability in standard lengths from 0125" to 1.0" (3.2 to 25.4 mm), as well as custom lengths.
A construction made out of optical grade polycarbonate 94V-0 clear material.
Compliance with RoHS and REACH requirements.
For more information, visit www.vcclite.com.