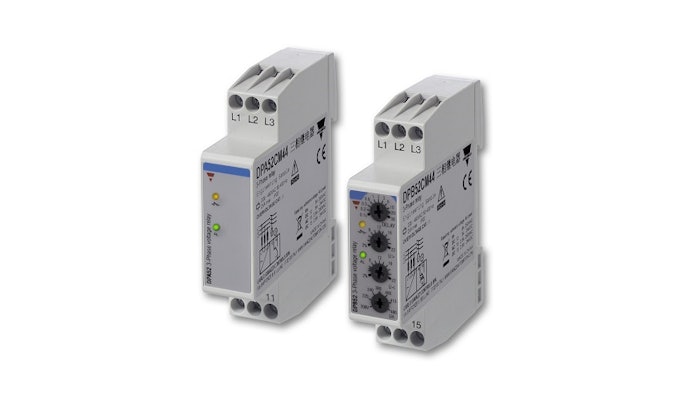 CARLO GAVAZZI, Inc. (Buffalo Grove, IL) announces the addition of its latest three phase monitoring relays, the DPA52 and DPB52. These devices provide critical protection against phase loss and improper phase sequence, with DPB52 adding additional protection against under-voltage and over-voltage. Thanks to the low profile DIN housing and 17.5mm width, it is possible to install these monitoring relays in industrial cabinets as well as in electrical distribution NORM panels. With a built-in switch mode power supply, DPA52 and DPB52 have the added advantage of filtering and minimizing harmonic distortions, which can help prevent devices from overheating and most of all prevent failures and false alarms which could lead to unexpected machine downtime. Features include:
125VLL to 624VLL (208V -40% to 480V +30%).
Operating frequency from 45 to 65Hz.
17.5mm wide - DIN rail mounting (1 DIN Module for NORM panels).
Screw terminals.
Alarm LED with type of alarm indication.
Switch mode power supply.
www.carlogavazzi.com; 847-465-6100