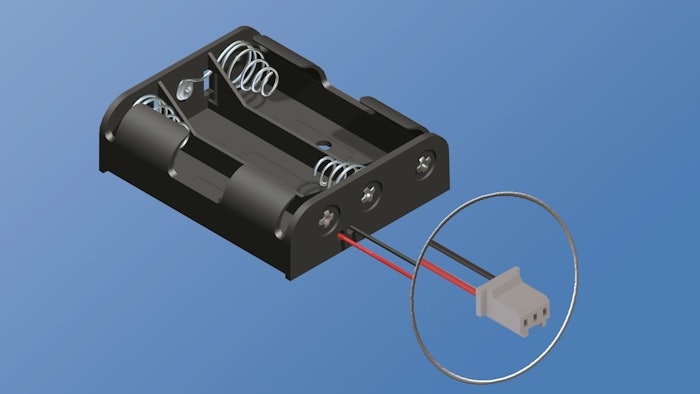 Keystone Electronics (Astoria, NY) announces that a broad, new selection of its popular plastic battery holders now includes the option to have holders with a PCB connector plug pre-installed to the end of 6" wires for simplified installations. These durable battery holders are molded from Polypropylene or ABS with polarity tabs and markings to ensure proper polarity and connectivity. Spring contacts are made from steel with nickel plating. The new PC Connector Plug is made from Nylon 6/6 with UL 94V-0, flammability rating. A mating PC mountable jack is also available. Other features include:
The ability to accommodate a wide range of cylindrical batteries from all the major manufacturers, sizes includes AA, AAA, CR2, 12v, as well as N cells.
Availability for 1 to 4 cell configurations for each cell size. For ordering products with this connector installed, add a CN suffix to the standard part number being requested.
The connector is also available in the Densi-Pak covered holder series which accepts AA and AAA cells.
www.keyelco.com; 800-221-5510