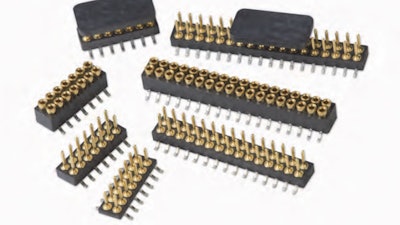 Advanced Interconnections
Advanced Interconnections (West Warwick, RI) has extended its line of Mezza-pede SMT Connectors with a new lower profile header (model DHAL) which reduces board stack height by 15%. The new design features:
A thin insulator that is 0.025" (0.63mm) thick.
A z-axis stack height of 0.132" (3.4mm) when paired with mating socket model DHS.
A shorter signal path in applications.
Suitability for 1.0mm pitch board-to-board and cable-to-board interconnections in high density electronic designs.
Availability with 14 positions.
Proprietary SMT lead frame and pin design.
A unique over-molded lead frame in a precision-molded LCP insulator.
30 microinches (µin) gold plating.
Pass the 20-day mixed flowing gas (MFG) test, which is often required by demanding telecommunications applications.
RoHS compliance.
An operating temperature range from -55° to +125°C.
The ability to handle as much as 1.1 A current at +80°C.
For more information, visit www.advanced.com; or call 401-823-5200.