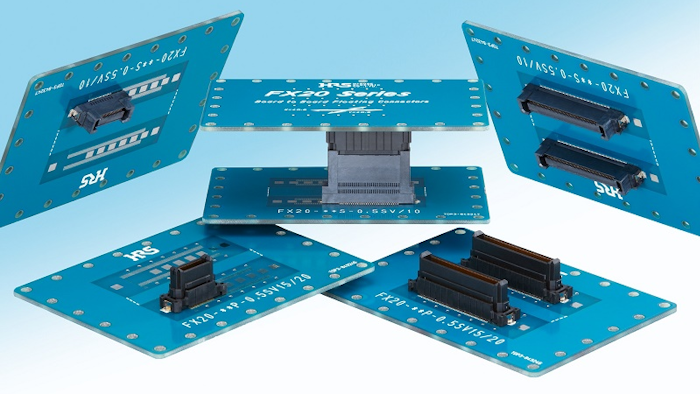 Hirose
Hirose (Chicago, IL) has designed a board-to-board connector with a reliable floating contact mechanism and self-alignment structure that simplifies assembly. Providing ±0.6 mm floating in the X and Y axis directions, the FX20 Series absorbs mounting misalignment from multiple stacking connectors as well as PCB shrinkage caused by high temperatures. Additional features include:
Suitability in industrial and vehicle applications.
A reliable double beam contact structure that provides shock and vibration resistance.
Contact beams that each have a different vibration characteristic and a different contact force, which widens the frequency range and reduces resonance - 0.5N contact force (first beam), 0.35N contact force (second beam).
Resistance to sulfur dioxide.
Operation in environments up to 105°C.
Thermal shock protection from -40°C to +85 degrees C for up to 1,000 cycles.
Self-cleaning functionality.
A 0.5 mm pitch design that delivers a 0.5 Amp current per pin capacity.
120 positions to carry 60 Amps.
Large mating guide pins on the header, which allows for ±1.2 mm self-alignment.
A flat, leveled surface that allows for automatic pick-and-place mounting.
Availability in a parallel stacking version with stacking heights of 15, 20, 25, and 30 mm, as well as a right-angle mating type.
Availability in 20 to 140 positions, and range from 17.4 mm to 47.4 mm in width.
The first beam eliminates dust from the contact path, securing a reliable contact path for second beam. The contacts of both the header and receptacle are also enclosed in the housing, which provides advanced protection against dust. This feature also reduces the risk of dust adhesion due to solder waste and flux during the mounting process. 
For additional information, visit: www.hirose.com/us.