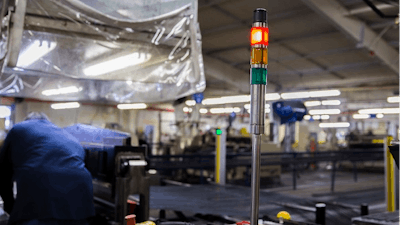 The 151SSLD-RYGN-NNS1 from Onyx Industries (Hastings, MN) is a 3-segment Stack Light with a rugged metal, industrial grade housing and very bright, long-life LEDs that easily capture the attention of machine operators and plant personnel when events impacting machine performance occur. The 151SSLD-RYGN-NNS1 has 1.5 inch/40mm diameter indicators, standard height lenses, and is ideal for OEM and systems integrator machine builders. According to Onyx, it offers an unrivaled number of options that allow OEMs and system integrators to fully customize the stack light to fit their customers' machine color, backlite text, powder coating, and more. For example, instead of an indicator, then a standard legend plate that reads: Red = Machine Down, Yellow = Low Material, Green = Normal Operation, Onyx can backlite and integrate the message onto the indicator light for a custom and professional look. Additional features include:
Red/Yellow/Green LED lights.
A rugged 304 Stainless Steel housing and plated aluminum base.
24Vdc, Sink/Source.
A 6, 12 or 30-foot PVC Jacketed Cable or M12 QD Connector.
Quick ship in 3 days.
www.onyx-industries.com; 651-260-7115