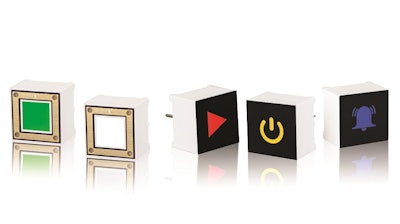 VCC
VCC (San Diego, CA) has developed a capacitive touch sensor display that provides a more intuitive interface to ease and accelerate user interactions. The LED-based CTH Series capacitive touch sensor display combines graphic interactive control with color identification to make the interface more user-friendly. Features include:
Capacitive touch sensing technology.

 

A

high-optical clarity.

Available with or without a variety of standard graphic overlays and colors.

Custom icons to meet most application requirements.

A variety of colors, including red, yellow, blue, pure green and white.

No moving parts, which improves reliability and increases

 

the operational life.

A through hole design.

One standard size (15mm x 15mm x 11.0mm) with an industry standard pitch of 0.100".

Applicability in industrial control displays, medical devices, mobile communication devices, PDAs, point of sale terminals, portable instruments, touch screen monitors and more.
For more information, visit http://vcclite.com/new-product-introduction-capacitive-touch-sensor-display/.