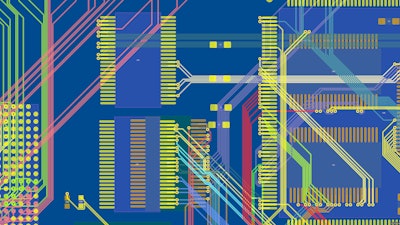 Zuken
YOKOHAMA, JAPAN, WESTFORD, MA, USA and MUNICH, GERMANY, SEPTEMBER 19, 2023 - Zuken Inc., an industry-leading provider of electronic design automation solutions, is pleased to introduce an innovative three-stage approach to AI-powered PCB design within its flagship CR-8000 platform. This forward-looking approach demonstrates Zuken's commitment to delivering heightened efficiency, accuracy, and technological progress to address the ever-increasing challenges of electronic design.
Autonomous Intelligent Place and Route (AIPR)
The Autonomous Intelligent Place and Route product line introduces a new platform for AI-based place and route, which evolves in stages. This product enables Mimic Route and Smart Autorouter together with Zuken's AI-based products detailed below.
Basic Brain: Elevating Design Zuken's Basic Brain revolutionizes PCB design at the foundational stage by learning from Zuken's library of design examples and existing design expertise. Seamlessly integrated into the robust CR-8000 platform, Basic Brain enhances the user experience by routing the design utilizing the Smart Autorouter based on learned approaches and strategies.
Dynamic Brain: Fusing AI with Your Design ExperienceIn the second stage, Zuken's Dynamic Brain learns from your PCB designers, utilizing past design examples and integrating them into AI algorithms. Combining customers' best practices with AI insights results in accelerated design iterations and notable enhancements in overall productivity, all within the framework of the CR-8000 platform.
Autonomous Brain: Redefining AI Evolution The third and final stage is the Autonomous Brain, an AI-driven powerhouse in continuous learning mode, pushing the boundaries of creativity. The Autonomous Brain's capability to self-improve with each project heralds a new era of AI-driven innovation and is available exclusively within Zuken's CR-8000 platform.
"Kazuhiro Kariya, Sr. Managing Executive Officer, and CTO of Zuken Inc., remarked, "Our three-stage AI approach empowers designers with an enhanced toolkit within the CR-8000 platform, accelerating design cycles and unlocking new dimensions of creativity."
Key Advantages of Zuken's Three-Stage AI Approach within CR-8000:
Learning sources transfer best practices to new projects
Enhanced collaboration between AI insights and human expertise
Accelerated design iterations and reduced time-to-market
Continuous self-improvement and evolution of AI capabilities
Seamless integration into Zuken's advanced CR-8000 platform
The Autonomous Intelligent Place and Route and Basic Brain products will be available in Q1 2024. The Dynamic Brain and Autonomous Brain products will be available in future releases.
For more information on Zuken's pioneering AI-powered PCB design approach and its integration into the CR-8000 platform, please visit https://www.zuken.com/us/products/cr-8000/ai-pcb-design/