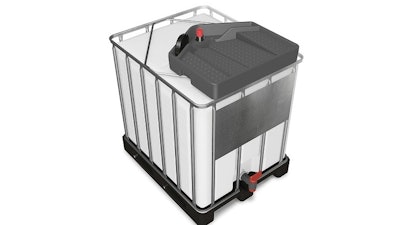 DENIOS-US (Louisville, KY) has introduced the new FALCON Funnel Model XL for the fast, safe and efficient refilling of IBC totes. Constructed of chemical resistant polyethylene (PE), the model XL is easily fitted to a standard IBC tote and includes a storage pocket for IBC locking lid, and a discharge basin with side storage areas. Specifically:
Liquids run off the domed base and through a large, 6-inch drain opening.

Each unit includes an integral 2-inch connection for an optional level indicator.

The FALCON Funnel Model XL is approximately 31" x 29" x 7" and has a 4-gallon capacity.

It is ideal for the safe, fast, and efficient refilling of totes, making it a useful addition for any facility using IBC containers.

DENIOS stocks the FALCON XL as well as other FALCON Funnels for IBC totes, drums and other containers in their Louisville factory for immediate shipment.
www.DENIOS-us.com, 877-388-0187