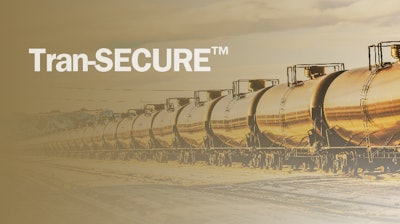 Trelleborg Sealing Solutions (Fort Wayne, IN) announces the launch of its Tran-SECURE Fluid Sealing Management Program.
Trelleborg's Tran-SECURE Program provides the Americas' chemical transportation market immediate availability of components critical to the maintenance and repair of railcars. Comprising high-performance engineered solutions, including manway and flat gaskets, O-Rings, and valve repair kits, the Tran-SECURE Program is backed by Trelleborg's global resources, local support, and unrivaled material research. Regardless of the commodity transported, customers receive the right seal for their tank car to maximize seal life and minimize maintenance and downtime.
Tran-SECURE Program customers are supported by a dedicated team of materials experts, sales engineers and customer success advocates focused solely on the chemical transportation market. Customers also enjoy 24/7 access to Tran-SECURE Fluid Sealing Management Program documents, material compatibility charts, training, and online ordering of in stock repair kits and components through the Chemical Transportation Seals-Shop. Seals-Shop users can easily search for products, access payment and order history information, and track shipments.