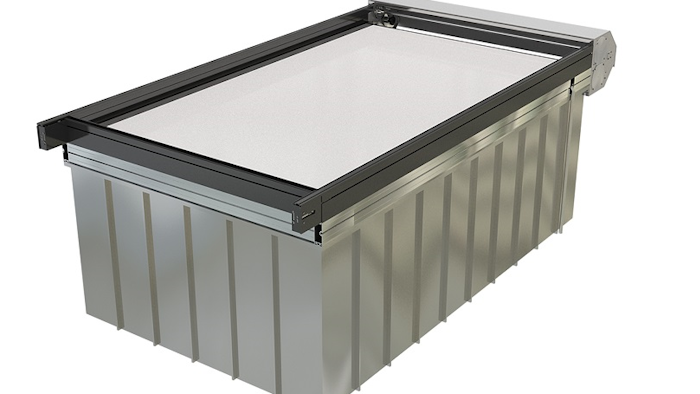 Dynatect (New Berlin, WI) introduces the ChemTank Cover, a corrosion-resistant chemical tank cover developed in response to the demand for convenient and space-saving options. The cover is designed to accommodate a wide range of tank applications including chemical and surface finishing, anodizing, etching, plating, cleaning and more. The cover system helps reduce heat-loss and evaporation, and its roll-up design offers easy manual or drill-drive operation. Specifically:
To maximize chemical and temperature compatibility, Dynatect's ChemTank Cover includes a PVDF-coated PVC shade and compatible hardware.
A stainless steel wiper removes the any condensation from the cover as it is retracted.
The ChemTank Cover is for tank opening widths from 24 to 80 inches.
The roll-up feature can be applied to tanks up to 60 feet long which often can't be addressed by fixed plate alternatives.
To evaluate their return on investment for applying a ChemTank Cover, facility managers should consider if they are losing money due to evaporation or energy efficiency due to continuously heating open tanks. Covers are also a logical approach to improving the work environment and air quality. Considering ergonomics and the necessity to contain hazardous fumes, ChemTank Cover may appeal as a regulatory countermeasure.