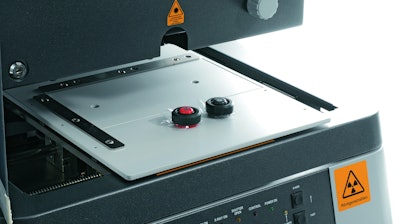 The X-ray fluorescence analysis (XRF) is a simple and precise analysis method for determining the composition of electroplating baths or other solutions containing metal ions. Metallic components such as Zn, Ni, Fe or even heavy metals such as Pb in solutions can be analyzed using this method. For electroplating baths, the ease of handling allows for a fast and reliable analysis during production.
All the XRF instruments from Fischer Technology (Windsor, CT) can be easily outfitted for analyzing plating solutions with the solution analysis cell kit. First, the specialized cell is filled with the solution to be analyzed, then it is covered with a thin but robust Mylar foil and sealed with a plastic ring. Measurement results are available within minutes. This provides short reaction times regarding changing the bath and the cells are resistant against chemicals and can be re-used. There are no further operational costs involved as opposed to other analytical methods where gases (Ar) or purified water are used.
According to Fischer, its high-precision, fast and user-friendly XRF measurement systems are perfect for analyzing the metallic content of plating solutions. Equipped with the solution analysis cell they provide great time savings compared to other analytical methods.
www.fischer-technology.com/en/us/solution/electroplating-solution-analysis; 860-683-0781