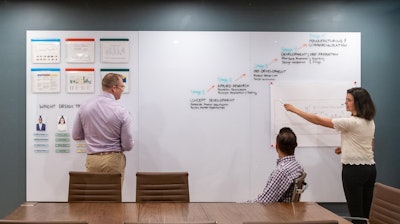 When it comes to glass whiteboards, building owners and representatives are looking for a dry-erase surface that's equally functional as it is stylish. Magnatag (Macedon, NY) VisuGlass WhiteWalls creates a whiteboarding solution that raises the aesthetics and functionality of any boardroom, office, or creative hotspot. VisuGlass WhiteWalls combines Magnatag's pre-existing lines of floor-to-ceiling dry-erase wall panels and glass whiteboards to create glass dry-erase wall panels that don't sacrifice style for function and maximize your available writing space. Specifically:
Manufactured using the market's finest materials—including high-quality optically clear, low-lead glass; frameless finished edges; and a hidden frame and steel backer, every element of VisuGlass WhiteWalls is designed to add striking style to conference rooms, hallways, offices, and more.

Equipped with patented micro-adjustment standoff mounting brackets, installers can raise and lower each corner of the board with ease to account for uneven and concave walls and match perfectly with the next panel to create a smooth, uninterrupted writing surface.

Many interior designers believe that color can have an enormous impact on workplace productivity. VisuGlass WhiteWalls features ten standard colors alongside standard black and white designs to match any modern workplace style. In addition, VisuGlass WhiteWall panels can be custom ordered to accommodate any design in full color at hi-resolution print.

VisuGlass WhiteWalls can be ordered and priced online with just a few clicks directly from the manufacturer — no middleman or distributors necessary.
www.magnatag.com/glass-whitewall, 800-624-4154