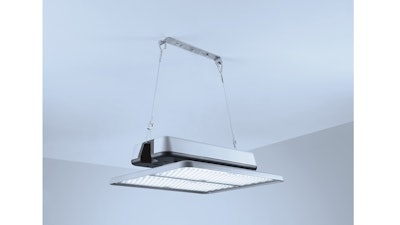 Waldmann Lighting (Wheeling, IL) introduces ACANEO, a new high bay luminaire for full ambient illumination of large industrial facilities with ceilings of up to 100 feet. Waldmann partnered with The Hella Group, another major player in the development and manufacturing of lighting and electronic components worldwide, to develop this product. The sealed, closed design and strong, aluminum housing are very effective in protecting the inside mechanics and electronics from dust, humidity, oils or vapors and is proficient in areas where temperatures reach up to 122° F. Additional benefits include:
60,000 hours of maintenance-free operation (L80B10), boasting time and energy-efficiency.
Advanced LED technology, and a modular mounting system that is quick and easy to install.
A thermal heat management system that is built in to pull any heat up and away from the light source in order to prevent any overheating of the work or storage area as well as the fixture.
Patented lenses offering precise and glare-free illumination for expansive industrial spaces.
Waldmann is offering ACANEO in three versions to enable a truly customized facility environment.
www.waldmannlighting.com; 800-634-0007