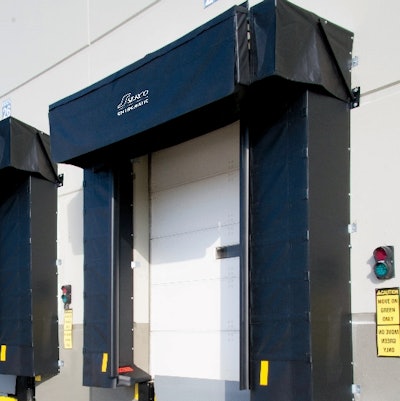 Entrematic
Entrematic has expanded its line of Serco loading dock shelters with the new Blackout (model BDS-S) loading dock shelter. Featuring Ultra High Wear Resistant (UHWR) fabric, the BDS-S provides wear resistance and stands up over time to the most abrasive movements caused by air ride suspensions and intermodal trailers. Additional features include:
The ability to withstand > 40,000 abrasion cycles.
A S-900DD DryDock integral rain header system that blocks moisture infiltration from the top of a trailer.
A Hinge Guard, which seals off the hinge gap around swingout doors, blocking air and light from entering a facility.
A LightBlockr connector curtain that blocks air and light infiltration at overlap of side and head curtains.
A rigid head frame that acts as a canopy.
A translucent top cover for increased visibility and operating light.
Roll-formed, galvanized steel framing that also extends loading dock shelter product life.
For more information, visit www.sercoentrematic.com; or 972-323-6730.