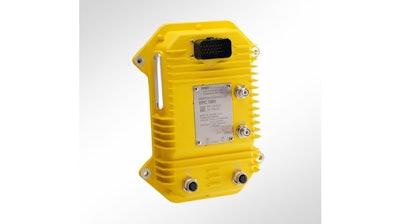 FORT Robotics (Philadelphia, PA) has announced that its Endpoint Controller — which brings safe, secure, dynamic wireless control to mobile, automated or autonomous machines — has received SIL 3 (safety integrity level 3) functional safety certification, as defined by IEC 61508, from exida.
The controller, which is part of the FORT Robotics Control Platform, can send and receive two different SIL 3 safety commands over Wi-Fi or Ethernet and can communicate with up to 30 machines simultaneously. This makes it possible to command and manage machines on- or off-site, delivering scalable, efficient control while protecting people and assets. FORT's Endpoint Controller functions as both a transmitter and a receiver of SIL 3 safety commands. Deploying an SIL 3–certified product helps users comply with safety regulations and ensures that potential risks have been assessed and mitigated.
The Endpoint Controller can be mounted on a machine or integrated with third-party input devices, such as buttons, safety interlocks, light curtains, or fire alarms, allowing users to trigger automatic wireless communications with a fleet of machines or robots. Additional features include a tamper-proof design, an IP65-rated enclosure, and secure firmware to protect against cybersecurity threats.