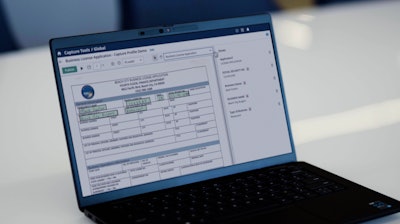 Laserfiche (Long Beach, CA) has launched an expansion of its intelligent data handwriting recognition for Laserfiche Cloud. This innovative feature allows organizations to extract handwritten text from semi-structured documents, to better serve their communities and expand the footprint of their business process automation.
Laserfiche additionally expanded intelligent capture capabilities earlier this year by adding full-text searchability to audio and video files stored in Laserfiche, such as voicemails or video meeting recordings. Driven by the understanding that the modern definition of a "document" should include any file format that can hold valuable and actionable data, Laserfiche provides users with the versatile data capture services required in today's modern workflows.
Robust handwriting recognition services make content-centric workflow automation accessible to Laserfiche customers whose end users require paper documents or forms for any reason. Laserfiche's expanded intelligent capture capabilities are ideal solutions for manufacturing companies that follow ISO 9001 standards, which include quality inspection approval sheets that are filled and signed by hand.