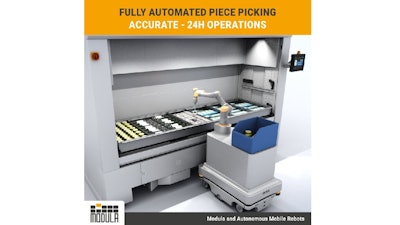 Modula
Modula (Lewiston, Maine) and Mobile Industrial Robots (MiR) announced a joint partial or fully automated solution for materials handling in warehouses, production and distribution centers.
Supporting various configurations, the solution can fully or partially automate material handling processes. The configurations include:
Semi-automated picking of single items

Semi-automated picking with picking-carts
Fully automated picking of single items
Fully automated case picking
Fully automated with pallets
Designed for modular and quick implementation, Modula and MiR's system is highly adaptable to warehouses and distribution centers of almost any size and layout. As such, it facilitates gradual automation, allowing businesses to transform their processes at their own pace.
The system can generate a return on investment (ROI) as early as six to 18 months from installation.