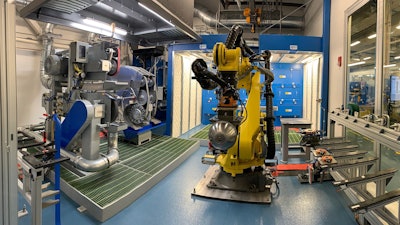 Saint-Gobain Abrasives (Worcester, MA) has introduced its new Norton Abrasive Process Solutions (APS) Program which was established to help customers determine the optimal grinding or finishing solution for the application at hand, ranging from simple to complex, off-hand or automated, and for metal fabrication, production grinding and virtually any abrasives operation. The APS Program draws upon the vast knowledge of the Norton team along with access to 30 different machines, and a new state-of-the-art APS Robotic Automation Cell, which is at the core of the new APS Program located at the Higgins Grinding Technology Center in Northborough, Mass. The APS team provides abrasive process development, optimization, automation and in-house testing. APS services encompass the testing and optimization of new abrasives, improving quality and/ or throughput, and trying entirely new and customized processes.
The new APS Program is positioned to be an extension of the customer, where tests can be conducted so that customers do not have to re-assign limited in-house resources and pause their own production.
The APS Automation Cell is capable of delivering abrasive-to-part and part-to-abrasive applications, wet/ dry processing and uses a full range of abrasives such as coated, non-woven, thin wheel, bonded and superabrasives. Equipped with a verified turnkey solution, manufacturers can then contact an automation system integrator to implement the solution. This avoids costly trial and error at the integrator level.