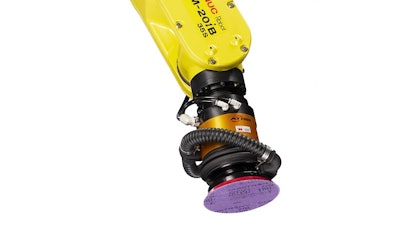 ATI Industrial Automation (Apex, NC) has introduced the AOV-10 Axially-Compliant Orbital Sander, specifically designed for robotic surface preparation and finishing. With built-in compliance, the AOV-10 is well-suited for many different robotic applications—even those that require a light touch. Specifically:
A pneumatically-actuated compliance mechanism allows for dynamic control of contact forces and ensures an ideal result every time.

The compliance force is adjustable to accommodate a wide variety of applications.

Double-acting motion offsets the weight of the tool to produce the desired finish no matter how it is oriented.

Users can mount the AOV-10 directly to their robot or to a fixture, in any orientation, including upside-down.

The design is compact and lightweight which suits a range of robot sizes and types, from cobots to industrial models.

ATI's robotic sander is optimized with 3M abrasives and includes a media kit of sanding discs and backup pads, allowing many users to easily implement robotic sanding processes.
www.ati-ia.com; 919-772-0115