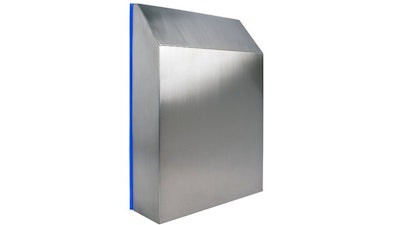 FactoryMation (Canton, GA) is now carrying Saginaw's innovative 4X Rain Hood. Designed for use with Type 12 fans and filters, Saginaw's rain hoods bring the ingress protection rating for the assembly to UL Type 4X. Once installed, they prevent rain, sleet, snow, dripping water, and other fluids from being drawn into the enclosure. Specifically:
4X rain hoods feature a 304 stainless steel #4 brushed finish.
The rain hood is removable to make maintenance and filter replacement easy without the use of tools.
Sanitation and contamination detection are made easy with FDA compliant gaskets.
www.factorymation.com; 800-972-0436