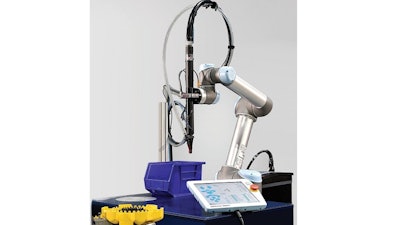 Visumatic (Lexington, KY) has launched the VCM-3X.2 collaborative robot module, a complete assembly feed and drive end of arm tooling (EOAT) package for use by machine builders. It includes an automatic screwfeeder, drive system, skeleton robot program and end effector for direct mounting to a collaborative robot wrist. The light weight EOAT allows maximum robot movement speed without sacrificing collaborative safeguards. It incorporates Visumatic's field-proven bit advance assembly with dual powered motion for precise controlled fastener installation.
The VCM drive tooling performs the bit advance motion so that the collaborative robot does not have to emulate the hand/arm motion required to follow through the screw drive from start to finish. The Visumatic system goes through the drive motions with the robot stationary, simplifying programming requirements and allowing faster set up. Additional benefits include:
The ability for the Cobot screwdriving system to work with your choice brand of collaborative robot.
www.visumatic.com; 859-255-7907