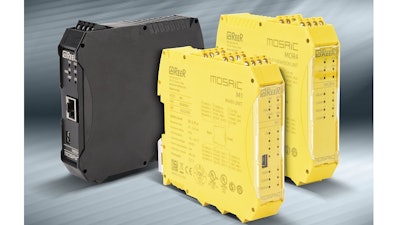 A new system of safety monitoring and control devices has been added to the AutomationDirect (Cumming, GA) line of safety-related products. The ReeR MOSAIC safety controller system is modular, expandable and configurable for managing all safety functions of a single machine or an entire plant.
As a stand-alone controller, the M1 master MOSAIC module has 8 inputs, 2 safety outputs, 2 status outputs and 2 inputs for Start/Stop interlock (RST) and external device monitoring (EDM). By adding up to 14 expansion modules, the safety controller system can have up to 128 inputs, 16 safety outputs, 16 RST/EDM inputs, 32 status outputs, and EtherNet/IP or MODBUS TCP/IP connectivity.
The MOSAIC M1 master module, input expansion modules, and output safety and status expansion modules are DIN rail mount and 24VDC powered; all modules have removable terminal blocks with screw contacts. The expansion modules connect to the master module via a ReeR proprietary 5-way bus.
www.automationdirect.com/safety-controller; 800-633-0405