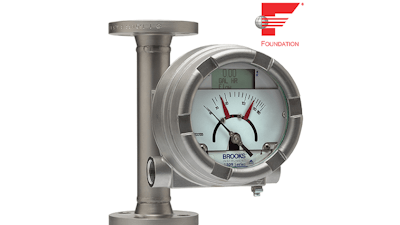 Brooks Instrument (Hatfield, PA) has added a new FOUNDATION Fieldbus transmitter to its popular MT3809 variable area (VA) flow meter, making it easier for users to integrate the unit into their automation control systems for more efficient data capture and digital communication across the plant enterprise. The Brooks Instrument MT3809 metal tube VA flow meter is designed for extreme conditions in chemicals, petrochemicals, oil and gas, and LP gas applications. The new transmitter makes it easier to access multiple MT3809 VA flow meter variables, including:
Flow rates.
Totalization, both resettable and inventory measurement.
Temperatures.
Densities.
Calibration factors.
Hi-low alarm parameters, which enable facilities and systems operators to be notified if gas or fluid flow rates fall outside set values.
www.BrooksInstrument.com; 888-554-3569