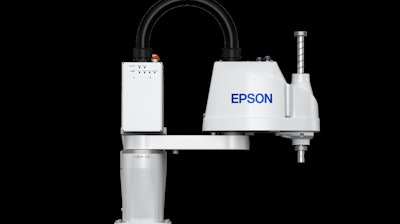 Epson Robots (Long Beach, CA) recently expanded its line of industrial SCARA robots with the new T-Series All-in-One model. Features include:
A built-in controller to reduce space requirements and simplify setup.
Less expensive.
Simplified integration and installation processes and software for pick-and-place, assembly, parts handling and dispensing applications.
Runs at 110 or 220 volts and requires no battery.
An integrated vision guidance option, as well as support for Ethernet/IP, EtherCAT, DeviceNet, PROFIBUS, PROFINET, and CC-Link fieldbus interfaces, as well as GUI Builder.