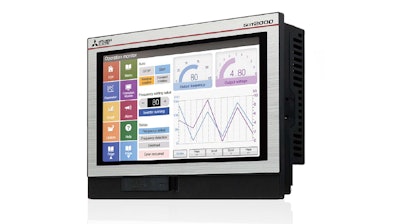 Driven by end user demand for improved visualization into their automation solutions portfolio, Mitsubishi Electric Automation, Inc. (Vernon Hills, IL) has introduced the GT2107 Wide Series Human Machine Interface (HMI). The GT2107 is an interface that monitors and controls machine components with a graphical touchscreen that connects to equipment such as PLCs, VFDs and servos. This compact HMI features a 7-inch wide display with 800 x 480 resolution for clear image quality and is equipped with a remote connectivity option through a VNC server. The optional VNC server (VNC license sold separately) provides remote access to the HMI and connected equipment, allowing users to operate the system using tablets or personal computers to view data in real time. The GT2107 also offers predictive maintenance information, giving plant managers the opportunity to proactively plan and manage equipment maintenance. Beyond predictive maintenance information and remote connectivity, the GT2107 Series HMI offers many other innovative features including:
Program backup/restore function.
Two USB ports (device and host).

Interactive display for seamless integration with Mitsubishi Electric devices.

Device monitoring.

Logging.

Factory automation transparency (download/upload through front USB to equipment).
Servo maintenance function.
SD card drive.
https://us.mitsubishielectric.com/fa/en; 847-478-2415