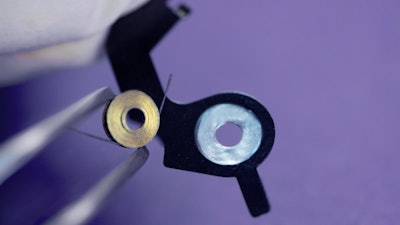 Master Bond (Hackensack, NJ) EP77M-FMed is a two part epoxy adhesive and sealant designed for use in the assembly of medical devices. It meets the ISO 10993-5 requirements and is not considered to have a cytotoxic effect. Specifically:
It provides a thermal conductivity of 1.44-1.73 W/(m•K), resists thermal cycling and has a Shore D hardness of 40-50 at room temperature.

It can withstand exposure to water, liquid sterilants, anti-microbial disinfectants and EtO sterilization.

It offers a tensile strength of 2,000-3,000 psi and a tensile modulus of 250,000-300,000 psi at 75°F.

This system is serviceable over the temperature range of -100°F to +250°F.
www.masterbond.com, 201-343-8983