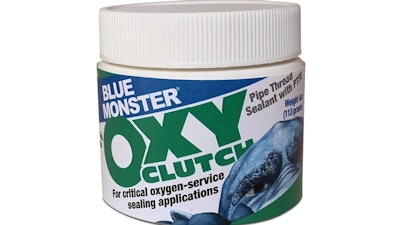 The Clean-Fit Products division of The Mill-Rose Company (Mentor, OH) has introduced Blue Monster OXY-Clutch, a new specially-formulated thread sealant for high-pressure, pure oxygen piping systems. Specifically:
OXY-Clutch is PTFE enriched and provides superior sealing characteristic.

It is inert, noncorrosive and nonflammable, and contains no VOCs, silicone or hydrocarbons.

This unique thread sealant has an effective temperature range from -320°F to 450°F (-196°C to 232°C) at pressures up to 2,600 PSI (180 BAR).

Blue Monster OXY-Clutch is tested for Autoignition Temperature according to the stringent standard of ASTM G-72.
www.cleanfit.com; 800-321-3598