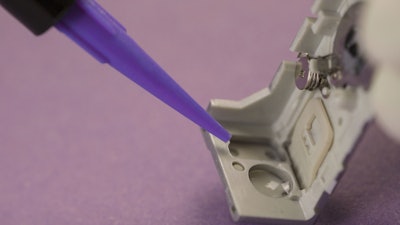 Master Bond (Hackensack, NJ) UV22DC80-1Med is a single component, nanosilica filled compound featuring a UV and heat curing mechanism. Not only does it pass USP Class VI Tests for biocompatibility, but it also meets ISO 10993-5 for cytotoxicity, making it ideal for many applications in the medical device industry. The UV22DC80-1Med offers:
Low shrinkage upon cure, excellent abrasion resistance and outstanding dimensional stability with a low coefficient of thermal expansion 30-35 x 10

-6

inch/inch/°C.

Reliable electrical insulation, with volume resistivity of more than 10

14

ohm-cm and dielectric constant of 3.85 at 60 Hz. UV22DC80-1Med is optically clear with refractive index of 1.52.

A low viscosity of 500-3,500 cps at 75°F (~ 23°C).
The UV curing process for UV22DC80-1Med takes only 10-30 seconds at a 365 nm wavelength and 10-40 mW/cm2 of UV output. The heat curing process can be initiated at 80°C, making it highly desirable in applications involving heat sensitive components.
www.masterbond.com; 201-343-8983