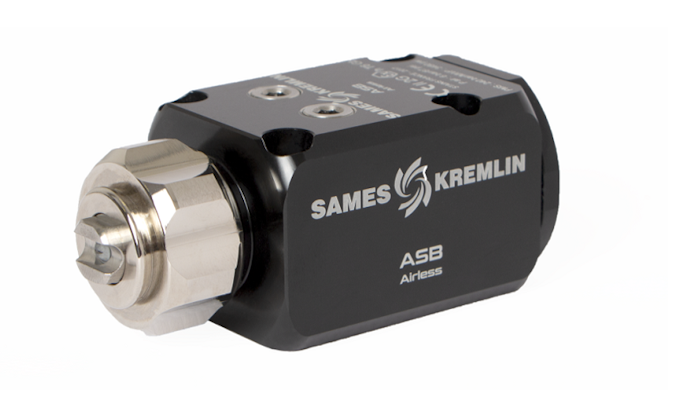 SAMES KREMLIN (Plymouth, MI) has announced the launch of the new ASB Automatic Spray Gun with Base. The new ASB automatic Airless spray gun works up to 240 bar (3480 psi). The ASB automatic spray gun offers superior atomization whatever the line speed, thanks to the perfect balance between high pressure and high flow rate. It delivers a precise application with the coating applied directly on the target due to fast response time. Features include:
Premium Airless applicator for all types of materials: solvent-based, water-based, UV curing materials or various market trends.
Payload 20% lower than competition for reciprocators and/or robotic installations.

 

This allows for Increased motion speed and reduces centrifugal force and wear on rotating machines.
Low maintenance cost of ownership: Bringing versatility to the marketplace: 100% compatible with existing range of SAMES KREMLIN automatic gun bases (i.e.:

 

AVX). The same base is compatible with either Airspray, Airmix or Airless spray guns.
www.sames-kremlin.com; 800-573-5554