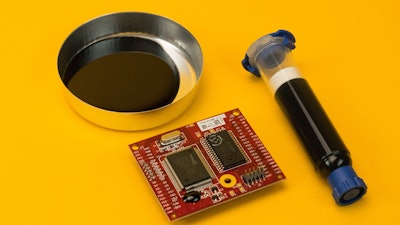 EP17HTND-CCM from Master Bond (Hackensack, NJ) is a new single component epoxy that is not premixed and frozen. It is more convenient to handle, apply and store than typical two component glob top systems. This black, heat curable compound has a flowable paste consistency ideal for glob top, chip coating and bonding applications. EP17HTND-CCM meets NASA low outgassing specifications and is serviceable from -80°F to +600°F. This adhesive forms high strength bonds to a wide variety of similar/dissimilar substrates such as metals, ceramics, plastics, composites and various circuit board materials. Other benefits include:
A thermally conductive and electrically non-conductive formula, even upon exposure to hostile environmental conditions.
A high-volume resistivity of more than 1015 ohm-cm at 75°F and over 1012 ohm-cm at 400°F.
The ability to resist many chemicals including acids, bases, salts, fuels, oils and many solvents.
Formulated for various electronic applications, EP17HTND-CCM cures readily in 1-2 hours at 350°F [175°C] with a relatively low exotherm upon curing.
www.masterbond.com; 201-343-8983