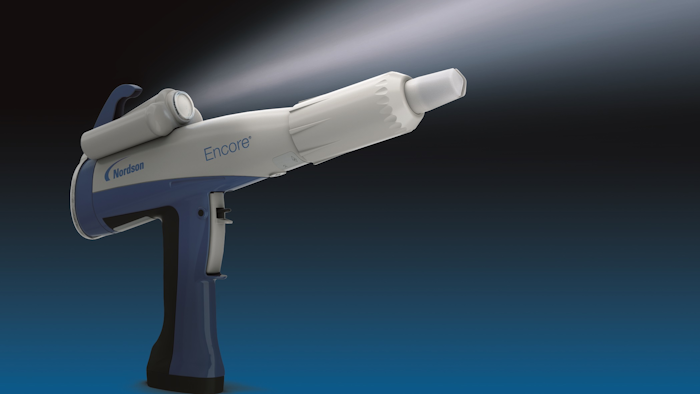 Nordson Industrial Coating Systems (Amherst, OH) has announced that visitors to FABTECH 2018 can expect to find solutions for their specific liquid and powder coating application needs in Nordson's booth B5216, November 6-8 at the Georgia World Congress Center in Atlanta. Specifically:
New Hardware and Liquid/UV Solutions. Many of the visitors to Nordson's exhibit will get their first look at the newly released Encore nLighten, a safety-approved accessory that instantly adds the power of an LED light to the capabilities of the Encore manual spray gun. nLighten reduces rework, decreases the material waste and eliminates the use of un-rated flashlights and other light sources that can create hazards for employees in a powder-spraying environment. Interactive kiosks will also showcase three liquid and UV coating scenarios and how Nordson's products exceed in these environments. This includes a waterborne solvent, plural component, and UV coating scenario. Visitors can view rendered drawings from an isometric viewpoint to help better understand product features and benefits.
New Digital Solutions Platform, Mobile Parts App and more. Nordson's new Digital Solutions Platform is central to the company's vision for next generation products, solutions and services that give customers connectivity "anywhere, anytime." With capabilities for product data, monitoring, maintenance and machine learning, Nordson can deliver more robust services and increased product functionality for customers. The first major component launching under the platform is the company's new Parts Ordering App (POA). Maintenance and engineering teams will have detailed access to replacement parts and image views through mobile smart devices such as a phone or tablet. It's why in addition to the POA, the newly expanded Nordson University in Amherst, Ohio is using machine data to structure industry-leading education, testing and development services for customers, their engineering teams and their workforce.
Visit Nordson at booth #B5216 at FABTECH 2018.