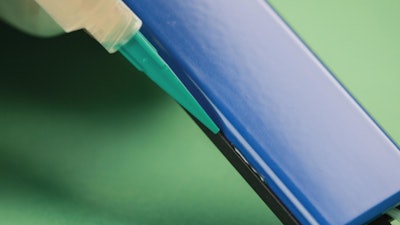 Master Bond (Hackensack, NJ) EP70CN is a two part, thermally stable epoxy adhesive formulated using a natural, renewable and sustainable ingredient. This epoxy system forms high physical strength bonds and can be utilized for bonding, sealing, coating and potting. Benefits include:
A tensile strength of 11,000 to 12,000 psi and tensile modulus of 300,000 to 350,000 psi.
A glass transition temperature of 130 to 135°C.
A very good chemical resistance profile when cured at the optimal cure schedule.
It is a low viscosity formulation with a mixed viscosity of 2,500 to 5,000 cps. With a long working life of 60 to 90 minutes and a variety of curing options, the optimal cure schedule is overnight at room temperature followed by 3-4 hours at 140°F to 170°F. EP70CN bonds well to a wide variety of substrates including metals, ceramics and many rubbers, plastic materials, and especially composites with low shrinkage upon cure.
www.masterbond.com; 201-343-8983