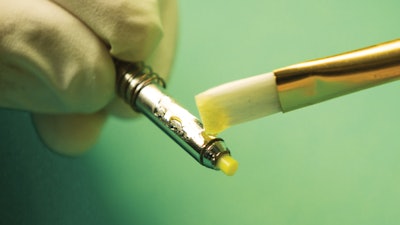 Master Bond Inc. (Hackensack, NJ) has developed a solvent free, two component, toughened epoxy system called Supreme 62-1, serviceable from -60°F to +450°F (-51°C to +232°C). Most noteworthy, Supreme 62-1 provides chemical resistance to a wide range of acids, bases, fuels and solvents, even at elevated temperatures. It can be used as an adhesive/sealant for aerospace, electronic, optical and specialty OEM applications. Specifically:
Supreme 62-1 is easy to use and has an advantageous long working life of more than 12 hours after mixing a 100 gram batch.
Typical cure schedule options range from 4-6 hours at 140-158°F (60-70°C) to 20-40 minutes at 176-212 °F (80-100°C) to 10-20 minutes at 257°F(125°C).
This compound has an elongation of 5-10% and a Shore D hardness of 75-85.
Volume resistivity of the cured epoxy exceeds 1014 ohm-cm.
Supreme 62-1 is available for purchase in ½ pint, pint, quart, gallon and 5 gallon kits.
Specialty packaging in premixed and frozen syringes and in gun kits are available to simplify handling, minimize waste, speed productivity.
www.masterbond.com; 201-343-8983