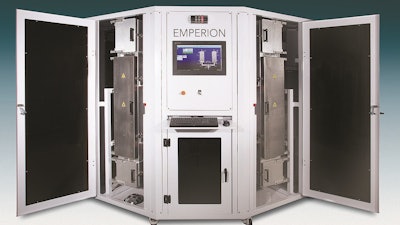 Duralar Technologies (Tucson, AZ) has introduced the new Emperion system, for high-throughput deposition on the interior and exterior surfaces of metal parts. According to the company, the Emperion features twin deposition chambers that allow virtually continuous coating and high throughput. While one chamber is processing, the operator can be unloading and reloading the second chamber. Also, the system's proprietary DualArmor process is able to coat parts very rapidly and very evenly, both inside and out.
The Emperion employs Plasma Enhanced Chemical Vapor Deposition (PECVD) technology using Duralar's special "hollow cathode" process called DualArmor. This creates a high-energy electron field that bathes metal parts in an extremely dense plasma and coats all surfaces — interior, exterior and complex 3D shapes — with high uniformity. This eliminates the unevenness that is typical of line-of-sight, spray-type coatings. The high-intensity plasma also coats parts more rapidly, at rates up to 0.5µm per minute, which can take hours off previous coating process times.
Complementing processing speed, an elegant operational design further streamlines the system's throughput. Twin processing chambers optimize operator efficiency; lightweight, modular, custom-designed fixtures make for faster, easier transfer of parts into and out of the chambers; and special quick-change chamber shields dramatically reduce the need for chamber-cleaning downtime. Plus, next-generation software with intuitive operator interface controls the entire system.
www.duralar.com; 520-300-9972