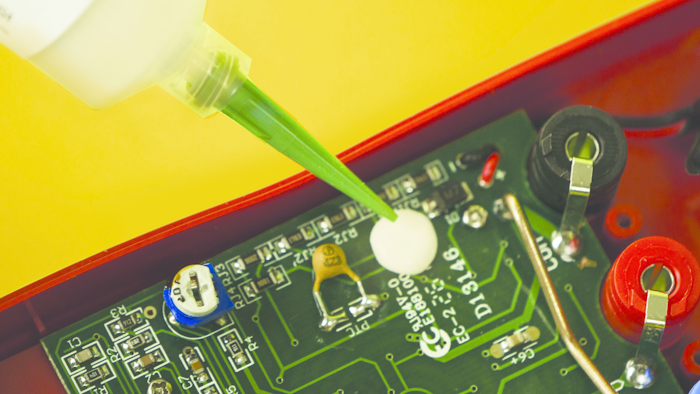 Master Bond (Hackensack, NJ) EP39MAOHT is a room temperature curing system for demanding bonding, sealing, coating, potting and encapsulation applications. Features include:
A low mixed viscosity of 3,000-6,000 cps as well as a convenient one to one mix ratio by weight and a long working life of 120-150 minutes for a 100 gram batch. This dimensionally stable system bonds well to a wide variety of substrates including metals, ceramics, composites and glass as well as many rubbers and plastics with very low shrinkage upon curing.
Reliable thermal conductivity of 9-10 BTU•in/ft2•hr•°F [1.30-1.44 W/(m•K)], while retaining superior electrical insulation properties, including a volume resistivity of >1014 ohm-cm and a dielectric constant of 4.8 at 60 Hz.
Chemical resistance to water, fuels and hydraulic fluids as well as many acids and bases. EP39MAOHT is serviceable from -100°F to +400°F. The combination of these performance properties makes it well suited for application in the aerospace, electronic, electrical, optical and specialty OEM industries.
EP39MAOHT is off-white in color and is available for use in 1/2 pint, pint, quart, gallon and 5 gallon container kits.
www.masterbond.com; 201-343-8983