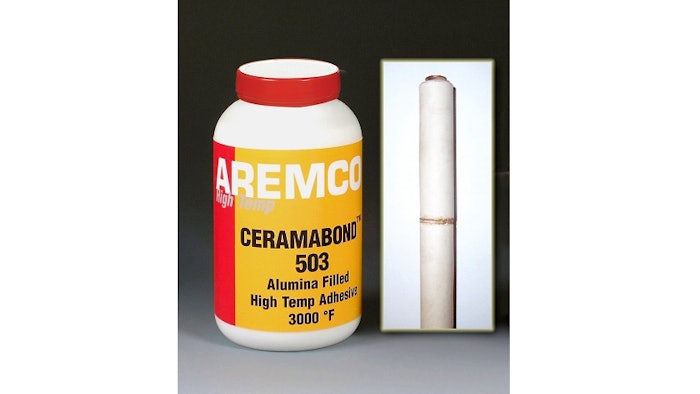 Ceramabond 503, a new high temperature ceramic adhesive formulated by Aremco Products, Inc. (Valley Cottage, NY), is now used to bond aluminum oxide ceramics for a wide variety of high temperature applications to 3,200 degrees F. Ceramabond 503 is an inorganic, water-dispersed, aluminum oxide (alumina) filled adhesive that is ideal for bonding alumina ceramics. Additional features include:
Easy application by brush, spatula or syringe.

Full curing in 1-2 hours at 700 degrees F.
Mechanical strength that continues to improve, with increases in temperature and tensile-shear strength of 900 psi which can be achieved by curing further at 1,000 degrees F.
An inert, chemically resistant formula that will not outgas in ultra high vacuum (UHV).

 

An exceptional electrical insulator providing a volume resistivity of 109 ohms-cm and dielectric strength of 250 volts/mil.
www.aremco.com; 845-268-0039